Medication and Falls
Medication management is crucial to sustaining good health, but at the La Crosse County Fall Prevention Coalition we want you to just take a moment to consider the effects that medication, or a mix of medications, may have on your balance and your risk of injury from a fall or a slip. Remember, our goal is to help you prevent slips, falls and accidents.
It goes without saying that your medications are an important and very necessary part of treating an illness and/or managing a chronic disease. But for some people, different medications can lead to drowsiness, dizziness or feeling lightheaded; all of which can affect your balance and increase your risk of falling.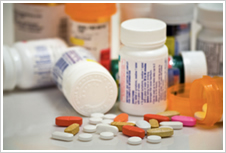 You should talk with your pharmacist or doctor about possible side effects, to determine how you can best limit your risk of a fall related injury such as a hip fracture, a very common fall injury for the elderly.
When you are filling any prescription, make sure to ask the pharmacist whether the medicine can affect your balance. And remember, 'medication' not only includes prescription medicines, but also herbal, natural, and over-the-counter remedies such as aspirin or antihistamines.