Physical Activity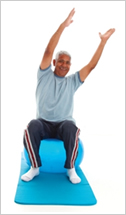 Strong Seniors - Fitness for all ages!
Inactivity increases with age. By age 75, about 1 in 3 men and half of all women engage in no physical activity. It is well known that older adults benefit greatly from regular physical activity!
Now seniors have more opportunities to be active with the Strong Seniors program. There are currently 14 different free exercise classes offered in La Crosse County.
Classes are led by La Crosse County Certified Fitness Instructors. All classes are designed to help participants strengthen muscles, improve balance, and build endurance.
Classes are filled on a first come, first serve basis. Be sure to check out the upcoming 2016 class schedule for information on how to get registered.
2018 Strong Seniors Schedule (link to getactivelacrosse.org)
Swing Into Shape - Gundersen Health System, La Crosse, WI
This safe and effective exercise program teaches gentle movement to improve range of motion, flexibility, muscle strength and endurance. Balance skills and posture awareness are emphasized during seated and standing exercises, and muscle strengthening is done with resistance bands. This program is geared toward the older adult, anyone who is deconditioned or someone who is looking for a basic program.
Tune your TV into Swing into Shape
- Charter Channel 5 every Thur at 8 am or Fri at 6:30 am
- Centurylink Channel 4 every Thur at 8 am or Fri at 6:30 am
- KQEG Channel 23 every Thur at 8 am or Fri at 6:30 am
- KQEG Channel 51 (Sparta & Tomah) every Thur at 8 am or Fri at 6:30 am
- Tri County Communications Channel 18 every Mon, Wed, Fri at 9am & 2pm
Learn more about Swing Into Shape by visiting the Gundersen Lutheran website link below.
Click here for more information on Swing Into Shape
Gentle Yoga - A Place to Begin
Yoga is an ancient mind body exercise with special attention given to movement, breathing and focus. Yoga promotes range of motion, it helps restore flexibility and it can improve circulation to the joints and to the entire body, which promotes healing.
Learn a variety of yoga poses with proper breathing technique and tips to help you focus. Improve your strength, flexibility and balance in a setting that's safe and comfortable. Three yoga sessions are available on one 60 minute DVD.
Click here for more information on Gentle Yoga - A Place to Begin